iMac Repair & Upgrade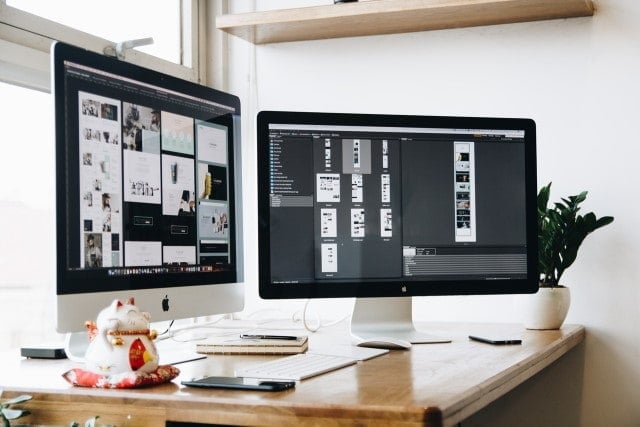 Is Your iMac Functioning at Its Most Optimal Lately?
Over time, Apple has made a number of important improvements to their iMac lineup of desktop computers. However, the iMac is more prone to creating specific problems that may require troubleshooting and repair.
Some of the most typical issues iMac users report have been related to slow performance, random restarts, and hard drive problems. Some iMac users also experience issues with the CD drive becoming jammed or the email program not working.
Regardless of what kind of problem you're experiencing with your iMac computer, you can trust Pronto Arigato to handle the issue quickly and economically. Our knowledgeable technicians have experience with all the most well-known computers. They will have your iMac fix completed quickly so that you may get back to what is important.
Common Issues Your iMac Will Face
Broken LCD Screens and Display Issues:
This is a common problem many modern iMacs face. With recent iMacs are available with a variety of screen sizes to fit your requirements, the high pixel density and LCD displays offer excellent image quality and impressive functionality.
However, many users are reporting screen problems, which include LCD display discoloration, dead pixels, yellow of the display, and even cracks and scratches in the monitor.
Such a repair is extremely delicate work and should never be attempted by untrained hands. These should be handled by professionals, something you can trust our experts at Pronto Arigato to get the work done as soon as possible.
Hard Drive Failures:
These small metal box that you can find within your iMac contains all your information, applications, and even operating system of your device. It is worth noting that while it is able to last for a decent amount of time, there is a chance it would fail sooner or later. The wear and tear of the moving parts and ball bearings would eventually start.
If such cases were to happen, the most important thing is to recoup your information. When you start hearing clicking sounds coming from your device or unusually slow operation, you should let our experts diagnose it for you as soon as possible to ensure no further damage occurs.
Startup Issues:
If your iMac fails to boot properly and you find yourself staring at a blank screen or gray startup screen instead of your desktop for a long time, then it's time to try booting in Safe Mode. In this mode, your MacOS will boot up with the bare minimum of software and drivers required to run, and it will give a check on your startup disk and repair any directory issues that might be causing issues to your startups.
If this does not solve the issue, of course, Pronto Arigato is willing to look over it and find the proper reason for such an issue to occur.
Incompatible Login Items:
Finding yourself staring at a blue screen when you start up your Mac? This common issue might mean that one of your startup items (apps that start up automatically when you switch on your iMac) is incompatible with your current device. This is not the hardest to deal with, however, as all it takes is a bit of trial and error, where you can easily identify which application is causing the problem.
It is worth pointing out that while identifying this is simple, there might be a chance either a virus or malware might be affecting your device, in which finding professional help to deal with it might assist you to quickly find out the problem and easily solve this problem.
Why Bring Your iMac to Pronto Arigato?
Leave your iMac in expert hands as we have handled thousands of cases over the years, repairing everything from the early releases of iMac to the latest model of iMac and even desktop machines from other brands.
Our professional staff and experienced technicians in Pronto Arigato are able to provide you with expert on-the-spot diagnosis and quality repair at your convenience, time, and place.
We pride ourselves on being a one-stop solution for iMac repair and all desktop repair services. With numerous positive reviews from our customers, we strive to offer our services at competitive prices.
What Pronto Arigato Offers when you encounter an issue?
Experienced Repair Technicians
As with any device with high usage, there are many components that can be damaged in an iMac, hard drives, graphic cards, or even motherboards.
However, if you believe that you might have caused liquid damage to your iMac computer, bring the device to Pronto Arigato as soon as possible for a thorough examination. As with all water damage units, the sooner you bring in the device after the damage is done, the more likely our technicians are successful at fixing it.
Diagnostic Assessment
If your iMac is not behaving and working properly. Come for a diagnostic assessment. Every fix starts with an examination that enables tour technicians to determine what is causing the product to malfunction. After which, the user can then decide if they would like to proceed with repairing the device.
Rest assured that here at Pronto Arigato, you will always receive the highest level of service for iMac repairs backed up by our commitment to a low labor repair fee, whether you have a cracked screen, water damage, battery issues, virus attack, display problems, or any questions that you may have.
Fair-Price Guarantee
By selecting Pronto Arigato, you will be receiving the highest quality iMac repair service for an affordable price. Our fair-pricing guarantee makes sure of that. You should never have to compromise on the performance or reliability of your laptop due to the repair costs involved. Every iMac we fix will also come with a 1 month warranty period covering the fix, should the issue resurface after you leave.
Pronto Arigato iMac Repair for the Following Issues
Faulty Hard Disks
Operating System Issues
Keyboard Replacement
Battery Replacement
iMac Retina Display Replacement
Water Damage
Case Replacement
Logicboard Repair & Replacement
USB Port Problem & Cleaning
How Much Will My iMac Repair Cost?
The repair costs usually depend on the model (A1311, A1312, A1418, A1419, etc) of your iMac, below is the range of price you would expect when you go for a repair:
PSU: $260 – $290
Motherboard: $300 – $450
LCD Screen: From $480
Feel free to leave us an enquiry in order for us to
check your iMac
(only pay when you repair) or give you an accurate quote.
FAQs
What if my device is still under warranty?
Depending on the remaining duration of your warranty, the possible issues on your MacBook, and also the severity of the issues, let our team have a look and we will be able to advise you on the next course of action. Do give us a call so we can better advise you.
How long will the repair take?
For common issues, repairs can take up to 60 minutes. While MacBook repairs for more severe issues will require a pickup from your location straight to our office in Paya Lebar Square.
If you need your MacBook diagnosed quickly, you can come down to our shop directly, where we will be able to advise if you in detail regarding your MacBook repair requirements.
Are you able to do on-site repairs?
For total convenience & time savings for you when booking a MacBook repair technician from Pronto Arigato for your MacBook issues. Let our technicians from Pronto Arigato come to you instead.
You can book our professional MacBook repair technicians and leave additional remarks through our contact form.
Am I able to purchase a new MacBook from Pronto Arigato?
Do take a look at our Shop Tab to look for the latest limited-time deals on MacBooks, iPhones, iPads and other devices.
Why does my MacBook batteries drain so fast?
A major problem with notebooks, laptops and MacBooks is the battery life. Batteries in our devices define how long we can go before rushing for our charging cable wire.
If the battery in your Mac notebook runs out of charge more quickly than you expected, check your battery's condition. See our article on how you can do that.
In need of emergency on-site repair? — We understand.
Let our technicians from Pronto Arigato come to you instead, our islandwide team of technicians can help save you time and hassle. You can submit a request here or call us at 9299 9626.
Tags: Apple, Mac, MacBook, MacBook Pro, MacBook Air, iMac, Mac Mini, Mac Pro, iPod, iPad and iPhone are registered trademarks of Apple Inc.