Desktop Repair & Upgrade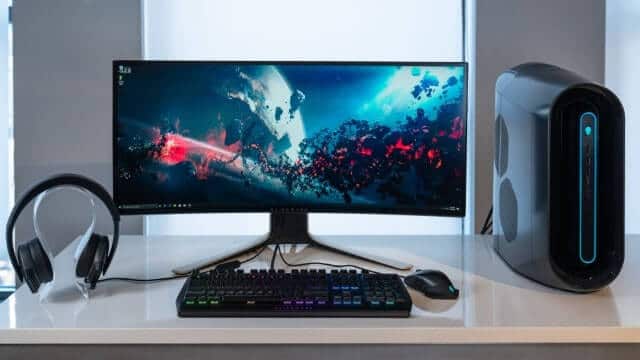 Is your Desktop Personal Computer (PC) broken or damaged?
Are you considering purchasing a new desktop PC rather than trying to repair your current one?
Or is your Apple iMac starting to give you problems?
In Pronto Arigato, we understand how vital your desktop is for your work and play, that is why we guarantee that repairs are done quickly and correctly along with a warranty.
Desktop Upgrades
Upgrading your computer and its applications is a superb way to extend the life of your desktop.
This is a good solution for many home-based and small companies because desktop computers are cheaper than laptops.
Pronto Arigato can perform an upgrade evaluation for your machine, be it a desktop with an integrated display or an Apple machine with a Retina Display and advise you on the proper replacement parts, files, display, or applications to make your machine seem like brand new.
We can also help you install new memory, hard drives, and video graphic cards as well as anything else you might want to maximize your machine's functionality.
Common Issues for Desktops
There are few common issues you may face with your Desktops, some of which you probably could handle on your own. Some of these includes:
Slow Performance:
As with most devices, your Desktop may suddenly run slower than before after a few years. It would even affect the applications you use everyday. The problem is likely to stem from your operating system. Typically, this is a result of fragmentation on your C drive (C:).This issue is not a major issue as there can be easily resolved by using basic software cleanup.
Simply run a quick system check from you Task Manager to see which of your application are using the most CPU and RAM resources.
By removing any unnecessary programs or processes running in the background, especially those you don't use. In the unlikely event that there is a more complicated hardware issue that is affecting your device, operating systems these days now come with a pre-programmed suite of free diagnostic and troubleshooting tests that should narrow down the problem.
With that, you can either seek professional help or, if you are knowledgeable in it, fix the problem yourself.
Loud Noises:
When a sudden loud clicking or grinding noise is being emitted from your computer, it is almost with certainty that you are dealing with some kind of hardware malfunction. Of course, there is a range of possible issues when such noises could be heard, but it is highly likely that it stems from the rotary functions of your cooling fans or hard drive(s).
The first thing you should do is open your computer case and try to pin down where the sound is coming from. If the culprit is from the cooling fans, then it is probably time to change them out. Cooling fans are not as expensive as other hardware within your device and relatively easy to change out with a screwdriver.
If that is not the case, then CPU fans, power supplies, and graphic cards should be the next possible reason why there is a sound being emitted. However, these parts are slightly more expensive and for the untrained hand, slightly difficult to replace.
Constantly Freezes:
Computers are complex machines that manage multiple processes without you even noticing they are there, and your Desktop is no different. It is this complexity that may sometimes cause your computer to freeze or not respond to your actions. More often than not, a simple remedy to this is to reboot your system.
Usually, if you are experiencing constant freezes, it could also be of insufficient system memory, registry errors, corrupted files, or even spyware. By checking each one of these potential issues until the problem is rectified, you should be able to resolve this.
Running system checks by either your device's pre-programmed diagnostic or your Antivirus programs may clear the air as to whether you don't have sufficient memory in your system or something else entirely. As viral infections and registry errors are a possibility as well, these diagnostics would be a more thorough check and ensure they correct them too.
Internet Browsing Is Slow or Unresponsive:
If your internet is slow or unresponsive, it is possible it is the combination of software and hardware issues that might be causing the problem. The first thing to do is to check that your Wi-Fi or LAN network connection is active and strong. If that is not the problem, then the lag could result from conflicts in the IP address registration. A simple reboot to your modem or router should resolve that.
If even that does not solve it, your browser might be the issue. Over time, browsers tend to withhold a high amount of data from browsing history and cache. There is also a chance a failing browser extension will slow down the performance. Ensure you clear your internet data and cache regularly and it should keep your browser running efficiently. If that doesn't help, either reinstall your browser or use a different one altogether to see if the same issue occurs.
Blue Screen of Death (BSOD): 
One of the scariest events that can happen to anyone at any time is the sudden greeting of the BSOD. The instant you see this, you know something is really affecting your Desktop. This STOP error is almost certainly hardware-related and unfortunately, could signal significant system failures.
However, it is not necessarily hopeless. Sometimes, a simple reboot could resolve this issue with relative ease. 
Generally, further diagnostics are necessary to discover the root of the issue. Usually, when the blue screen appears, you will see a line of white text that tends to identify the problem your computer is facing. By looking up these codes online, it can narrow down the issue and you can either solve the problem on your own or seek professional assistance to easily solve it.
Screen Display:
If you restart your Desktop and see that the resolution has changed or icons and texts are truncated, it's usually related to your graphics card. Many times, you simply need to update your graphics drivers. If you know the brand or model of your card, you can go to the manufacturer's website and download the latest software for the device.
If taking this step still doesn't fix the issue, there could be larger issues with your hardware. In rare cases, you may need to replace the graphics card altogether to solve the issue. However, in most cases, the issue is software-related.
Remember that experiencing computer issues is not the end of the world. It doesn't necessarily mean you need to spend a ton of money on system upgrades. As issues arise, take the time to better understand the cause of problems and work through possible fixes. If all else fails, there are plenty of IT support services available that can handle a more thorough analysis of your systems and offer workable solutions.
Why Bring Your Desktop to Pronto Arigato?
Leave your desktop in expert hands as we have handled thousands of cases over the years, repairing everything from compact desktops to tower desktop machines and even devices belonging to the All-In-One Desktop PC series.
Our professional staff and experienced technicians in Pronto Arigato are able to provide you with expert on-the-spot diagnosis and quality repair at your convenience, time, and place.
We pride ourselves on being a one-stop solution for desktop repair and Mac desktop repair services. With numerous positive reviews from our customers, we strive to offer our services at competitive prices.
What Pronto Arigato Offers when you encounter an issue?
Experienced Repair Technicians
As with any device with high usage, there are many components that can be damaged in a desktop, hard drives, graphic cards, or even motherboards.
However, if you believe that you might have caused liquid damage to your desktop computer, bring the device to Pronto Arigato as soon as possible for a thorough examination. As with all water damage units, the sooner you bring in the device after the damage is done, the more likely our technicians are successful at fixing it.
Diagnostic Assessment
If your desktop is not behaving and working properly. Come for a diagnostic assessment. Every fix starts with an examination that enables our technicians to determine what is causing the product to malfunction. After which, the user can then decide if they would like to proceed with repairing the device.
Rest assured that here at Pronto Arigato, you will always receive the highest level of service for desktop repairs backed up by our commitment to a low labor repair fee, whether you have a cracked screen, water damage, battery issues, virus attack, display problems, or any questions that you may have.
Fair-Price Guarantee
By selecting Pronto Arigato, you will be receiving the highest quality desktop repair service for an affordable price. Our fair-pricing guarantee makes sure of that. You should never have to compromise on the performance or reliability of your laptop due to the repair costs involved. Every device we fix will also come with a 1 month warranty period covering the fix, should the issue resurface after you leave.
Pronto Arigato Desktop Repair For The Following Issues
Faulty Hard Disks
Operating System Issues
Keyboard Replacement
Motherboard Battery Replacement
Monitor LCD Replacement
Water Damage
Webcam Problems
Case Replacement
Motherboard Repair & Replacement
USB Port Problem & Cleaning
FAQs
What if my device is still under warranty?
Depending on the remaining duration of your warranty, the possible issues on your MacBook, and also the severity of the issues, let our team have a look and we will be able to advise you on the next course of action. Do give us a call so we can better advise you.
How long will the repair take?
For common issues, repairs can take up to 60 minutes. While MacBook repairs for more severe issues will require a pickup from your location straight to our office in Paya Lebar Square.
If you need your MacBook diagnosed quickly, you can come down to our shop directly, where we will be able to advise if you in detail regarding your MacBook repair requirements.
Are you able to do on-site repairs?
For total convenience & time savings for you when booking a MacBook repair technician from Pronto Arigato for your MacBook issues. Let our technicians from Pronto Arigato come to you instead.
You can book our professional MacBook repair technicians and leave additional remarks through our contact form.
Am I able to purchase a new MacBook from Pronto Arigato?
Do take a look at our Shop Tab to look for the latest limited-time deals on MacBooks, iPhones, iPads and other devices.
Why does my MacBook batteries drain so fast?
A major problem with notebooks, laptops and MacBooks is the battery life. Batteries in our devices define how long we can go before rushing for our charging cable wire.
If the battery in your Mac notebook runs out of charge more quickly than you expected, check your battery's condition. See our article on how you can do that.
In need of emergency on-site repair? — We understand.
Let our technicians from Pronto Arigato come to you instead, our islandwide team of technicians can help save you time and hassle. You can submit a request here or call us at 9299 9626.
Tags: PC Repair, Desktop Repair