The iPhone is the ideal smartphone that everyone wants most of the time. But these days, there are a lot of worthy competitions in the market for Apple. Samsung, Google, One Plus etc. have been busy releasing some spectacular smartphones into the market and it has caught people's attention. This resulted in everyone having some confusion on which brand of smartphone they should choose. Well read on to find some iPhone comparison with other top brands.
IPhone Comparison With Other Top Brands
Apple has always been one of the best in the industry but so were the others. So if you are having confusion about whether you should go for the latest iPhone or other top brands such as Samsung, One Plus etc. Read the entire blog. Because we are gonna talk about the iPhone comparison with other top brands in this one, in detail.
Let's get to it, Shall we?
iPhone 12 comparison with One Plus 8 Pro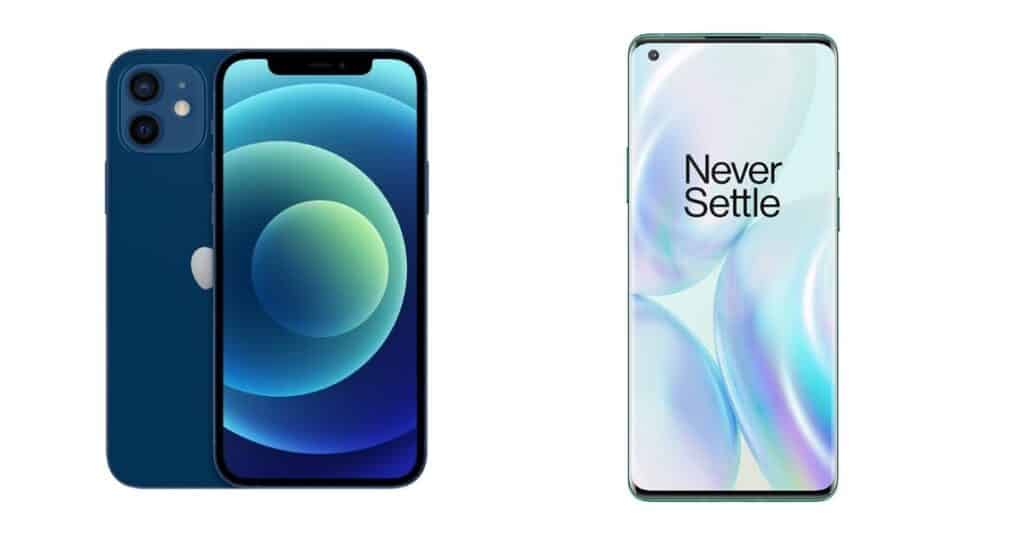 One Plus is one of the leading smartphones right now with all the amazing models it has been releasing. We are gonna compare a certain phone, One Plus 8 Pro with iPhone 12.
Also Read: 12 Reasons to Convince You to Buy iPhone 12 Mini
There is a lot of similarity between the iPhone 12 and One Plus 8 Pro. From battery to display, both of these smartphones end up almost in the same line. Both iPhone 12 and One Plus 8 Pro support the new 5G networks, have amazing displays and hardware. iPhone 12 has the Apple A14 bionic ship while the processor in One PLus 8 Pro is Qualcomm Snapdragon 865. The battery life of both phones is similar. Many argue that iPhone 12 has the longest battery life than any other newly launched smartphone but from our experience, we can say that both iPhone 12 and One Plus 8 Pro lasts just as much as each other.
The camera of the iPhone is considerably one of the best things you could see in a smartphone. One Plus 8 Pro comes close but not as near as we want it to be. Apple came up with stunning new colours such as SIlver, Pacific Blue, Gold and Graphite. One Plus 8 Pro also has two new colours, Glacial Green and Ultramarine Blue, that are visually appealing and aesthetic to use.
If you wanna get to the bottom of it and want to know which one is worth buying right now, we can recommend the One Plus 8 Pro. The smartphone has excellent performance, great battery life and is way cheaper than iPhone 12. For the price, One Plus 8 Pro does a pretty good job which is enough for most people.
iPhone 12 Pro comparison with Samsung Galaxy S20 Plus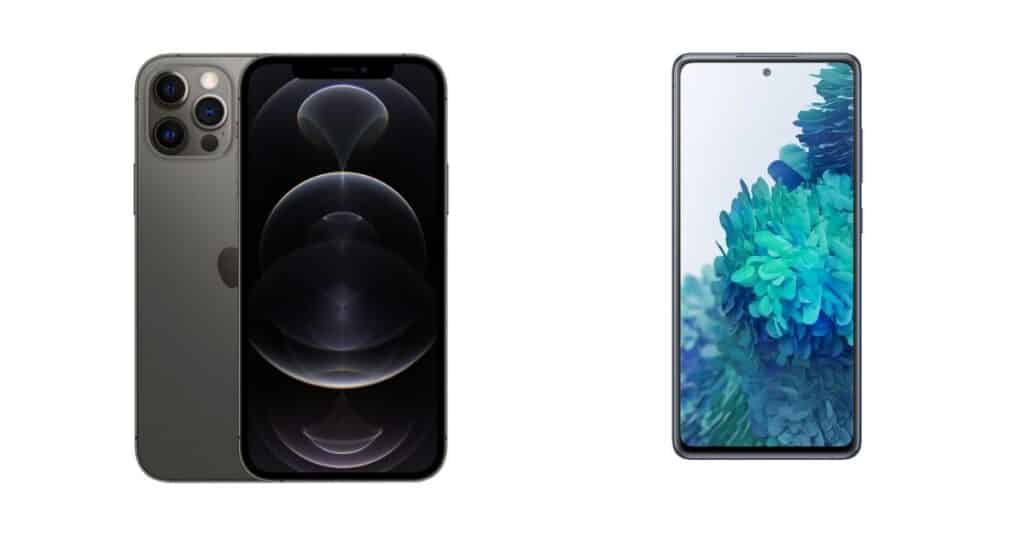 Samsung has been creating a lot of buzzes lately with new launches. So let's do a little iPhone comparison with Samsung. Specifically, iPhone 12 Pro with Samsung Galaxy S20 Plus.
Samsung Galaxy S20 Plus is a huge success for the brand. iPhone 12 Pro as always takes the camera war. The cameras on iPhones are always one of the best you can get if you rely on pictures too much. The display for both the phones comes closer with Samsung Galaxy S20 Plus having a display of 6.7-inch and the iPhone 12 Pro has 6.1-inch Super Retina XDR OLED.
One of the biggest deciding factors is the price of smartphones. And we are sad to say that Samsung Galaxy S20 Plus takes this one. The S20 is quite remarkable compared to the iPhone 12 Pro and its price. Another one of the battles that the iPhone 12 Pro seems to be losing to Samsung's S20 is the battery life. The power of Samsung's S20 is fantastic and lasts much longer than the new iPhone 12 Pro. iPhone 12 Pro has a lot of advantages and excellent features but in our opinion, Samsung Galaxy S20 has more.
Both smartphones have their pros and cons so it really depends on your choice and preference to select the best one for yourself.
iPhone 12 Pro Max comparison with Samsung Galaxy S21 Ultra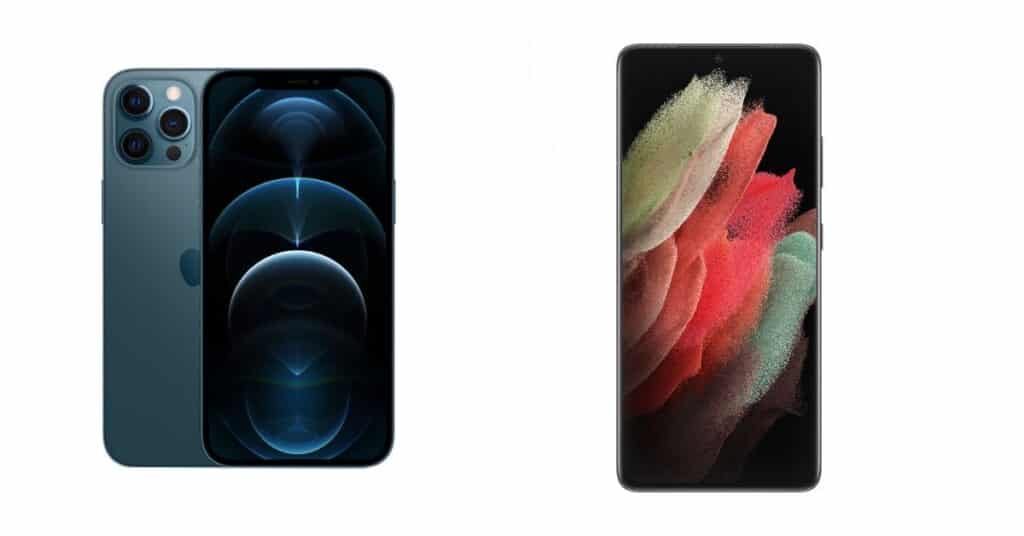 These two are one of the most luxurious smartphones out there right now. So let's do a little iPhone comparison with Samsung's one of the best smartphones.
Both of the phones have a way of their own. One loses some and the other lose some too. As repeatedly said earlier, Apple always makes sure that it doesn't lose the camera game and looks like it is staying true to the promise. The camera in iPhone 12 series is among the best so obviously, iPhone 12 Pro Max takes this one.
One of the surprising things we came across was that the battery life in iPhone 12 Pro Max is surprisingly amazing. It can last a whole day with moderate use. But it isn't enough to compete with Samsung Galaxy S21 Ultra because it lasts more than you can imagine compared to iPhone 12 Pro Max.
Samsung also takes the resolution and display war because it is considered one of the higher resolution smartphones out there. The design of the iPhone 12 Pro Max is hard to compete with because it looks like the best premium phone you can ever get in your life in the colour Gold.
Also Read: iPhone 13 Release Date, Latest News, And Everything You Need To Know
The final verdict unfortunately cannot be said in this iPhone comparison blog considering both of the phones match with each other very well. If you are a fan of premium phones, take a look at both of them and get ready to make a choice. It will be hard to make one.
Found this blog about iPhone comparison with other top brands useful? Make sure to check out Pronto Arigato to read more tech similar tech blogs right now!