We Repair Laptops From All Brands, Not Just Apple

Are you experiencing hardware or software issues?
Here at Pronto Arigato, we are laptop repair experts who have repaired thousands of laptops and we know how important your beloved laptop is, so we will always try our best to get your device repaired and delivered back to you within 24 hours.
We repair a wide range of devices from computers to laptops and we are an Authorized Service Provider for Apple Products, Dell, HP, ASUS, Acer and Lenovo. We are aware that laptop repair issues come in all shapes and sizes. Whatever laptop problem you need fixed, we can help!
We also carry high quality original parts, with ready stock for most of the common models in the market, so you can be assured of the quickest turnaround time.
Fill in our Laptop Repair Quotation form in this page to get a quick appointment or follow-up repair diagnosis on your device.
Let us advise you on whether you may need to replace, upgrade or simply just do some quick fix at home by yourself! Our specialists here are ready to help you on-the-go.
10 Most Common Laptop Problems
As Laptops are well-liked due to their ability to be used anywhere, at any time, when an issue strikes after you invested money into the device and rely on it for your personal use, it becomes a real inconvenience. While there are some where you are able to troubleshoot on your own, some, without the knowledge of how to fix your Laptop, would thoroughly damage your device, thus professional help may be required to ensure your Laptop's continuity.
Some of the more common issues many users would face are:
Not Able to Switch on your Laptop: When your Laptop does not power on even after pressing the power button, this presents a common issue as it is a complete failure for the device to turn on, and it can leave you without any access to your important files and programs. If there is no sound or lights coming from your Laptop, it does mean your Laptop may be dead and there are a few possible causes to it.
The first possible issue is to ensure your computer is charged. If you are sure that it already has been charged, or at least plugged into the device, and it still does not charge, then your AC adapter may have a problem instead. Testing it with a voltmeter may be the best method, or using a different adapter for it.
If the AC adapter does work, yet it still does not charge, then the DC jack may have an issue instead, keeping power from your computer, or your motherboard is unable to detect the connection.
Blank Screen: If the sounds and lights of your Laptop is on, yet your screen remains empty, it is one of the most frustrating issues to deal with as for some reason, your device is functional except for the screen itself. It is a problem that is hard to handle as you could feel the Laptop working, yet you have no indication why there is nothing on the screen.
The first method is to remove the battery and unplug your Laptop from its power source. By pressing and holding the power button for about a minute before plugging your device back to the power source and restarting your computer as per normal. Finally, replace the battery and restart your device again.
If this does not work, you may be experiencing a memory failure. You can try to check that the memory modules are making contact with the slot. If so, you may need to replace the memory modules altogether to get your screen running.
You can also try removing components like your hard drive, modem, or keyboard to determine what is causing the issue. If your screen is still blank after these tests, the motherboard or processer is likely to blame.
Your Laptop keeps Toggling between on and off: Another common issue is when you power on your Laptop, it decides to turn off on its own, before repeating it a couple of times. Your device may shut down completely, or you would see the flickering display that makes it impossible to even see the screen.
When faced with this issue, it may be time to check your memory modules or replacing them. If even that does not settle it, then your motherboard may be to blame. The best way to handle such an issue is to bring your Laptop to a professional, where they can diagnose the problem.
Weird Noise Emitted while Running: While it is normal for Laptops to make some noise when they are switched on, typically the sound of the whirling fan within, there might be some other unpleasant sounds being emitted while it is running. These grinding or rattling sounds is something you must keep notice of, as it may be due the cooling fan from within the device that is not working properly.
If your laptop is still making noises even if the fan is not spinning, then the sound is very likely coming from your hard drive; the only way forward with this is to back up all your important files and data before replacing the hard drive itself.
Laptop Freezes: An issue may faced before is that when you start your computer as per normal, it suddenly freezes a few minutes later or even shut down on its own sometimes. This problem can lead to the lost of your data and unsaved files, but it will cause you to worry about the current state of your device.
If such an event occurs, it is best to check the bottom of your Laptop. If you notice that it is overheating or the device's fan working harder than usual, then the issue should be heat-related. Cleaning out your fan and heat sink to prevent the dust from clogging up and blocking the processor from cooling might be the best way to clear this issue.
The Battery is unable to charge properly: Another common issue is when your Laptop battery is unable to charge properly. There is an easy fix to this: Adjust your AC adapter plug by moving the cord slightly to alter the position in the power connector. It may just about make your device be able to receive from the power source, or you may notice that your adaptor cord is frayed or damaged.
If that does not capture the connection to the power, then your Battery might need replacing as it can no longer receive any charge for it.
Screen Light Failure: Dim or Failing screen lights would put a strain to your eyes as you are attempting to view your Laptop screen. It causes your eyes to compensate for the lack of light. If everything else works on your device, then you may be experiencing a screen inverter or the failure of the backlight lamp within the Laptop. Replacing these components would repair the failure, and your eyes won't need to be strained.
Distorted Images: When you start noticing the image on your screen is distorted or odd in some way, it is another common issue many face. Whether they appear warped or the colors are off, it may be difficult to accomplish tasks on your Laptop, especially for designers.
To check if it is your display, using an external monitor may make it clear. If the image still does appear strange on the monitor, then your graphics card may be the reason for the distortion. If it is only limited to your Laptop Screen, the issue might then be due to your motherboard, video cable, or display screen.
Keys stopped working: Another common issue is when some keyboard keys are not registering when you are typing. As this would hamper anyone trying to simply type as per normal, it could cause problems going forward. Sticking keys may be the problem, so by removing the keycaps and carefully cleaning beneath them may solve this problem.
However, if this does not resolve it, then replacing the keyboard may be your only to continue using your device.
Repetitive Beeping Sounds: When you power on your laptop, you expect the typical startup noises. If you are met with repetitive beeping sounds and a blank screen, try pressing your keyboard. Sometimes a stuck key can cause issues on startup, but it is usually an easy fix.
Why Bring Your Laptop to Pronto Arigato?
Leave your laptop repairs in expert hands as we have handled thousands of cases over the years, repairing everything from compact laptops to heavy gaming laptops and even laptop-desktops that are meant to be situated in the office or school.
Our professional staff and experienced laptop repair technicians in Pronto Arigato are able to provide you with expert on-the-spot diagnosis and quality repair at your convenience, time and place.
We pride ourselves on being a one-stop solution for all your laptop repair requirements. With numerous positive reviews from our customers, we strive to offer our services at competitive prices.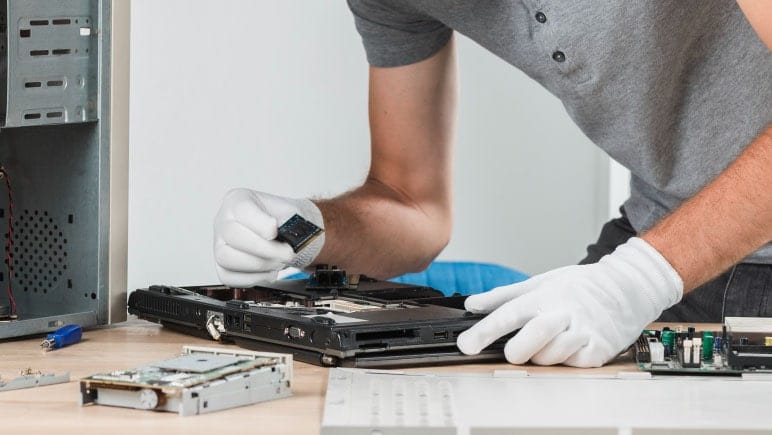 What Pronto Arigato Offers when you encounter an issue?
Experienced Repair Technicians
As with any device with high usage, there are many components that can be damaged in a laptop, hard drives, graphic cards, or even motherboards.
However, if you believe that you might have caused liquid damage to your laptop, bring the device to Pronto Arigato as soon as possible. Because, as with all water damage units, the sooner you bring in the device after the damage is done, the more likely our technicians are successful at fixing it.
Free Diagnostic Assessment
If your laptop is not behaving and working properly. Come for a FREE diagnostic assessment. Every fix starts with an examination that enables the technicians to determine what is causing the product to malfunction. After which, the user can then decide if they would like to proceed with repairing the device.
Rest assured that here at Pronto Arigato, you will always receive the highest level of service backed up by our commitment to a low labor repair fee, whether you have a cracked screen, water damage, battery issues, virus attack, display problems, or any questions that you may have.
Fair-Price Guarantee
By selecting Pronto Arigato, you will be receiving the highest quality service for an affordable price. Our fair-pricing guarantee makes sure of that. You should never have to compromise on the performance or reliability of your laptop due to the repair costs involved. Every device we fix will also come with a 2 months warranty period covering the fix, should the issue resurface after you leave.
Pronto Arigato Repair Services Offer
Faulty Hard Disks
Operating System Issues
Keyboard Replacement
Battery Replacement
Laptop Screen Replacement
Water Damage
Webcam Problems
Case Replacement
Motherboard Repair & Replacement
USB Port Problem & Cleaning
To make an appointment, do contact us by giving us a call or submitting an enquiry to us through the form.
For corporate enquiries (for bulk repairs & maintenance) or the operating time of our Headquarters: Please call 9299 9626.