Apple iPhone Repair Services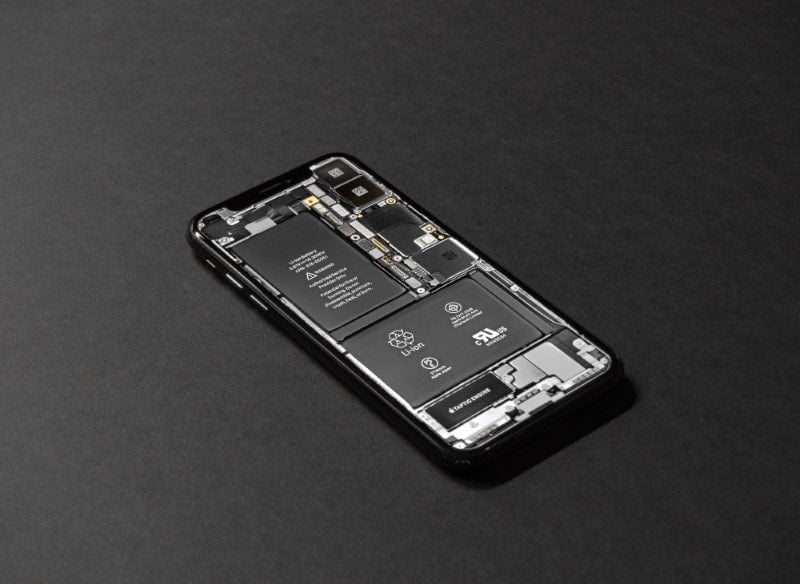 We take all versions of quality iPhone parts ready in stock so we can assure you the quickest turnaround on your iPhone repair.
iPhones would be the most commonly used device on the market. They are virtually in everyone's pocket. They are entertaining, useful devices that most people use every day. Supplying almost full computer capabilities in a lightweight, easy-to-use form to its users.
With devices that are used every day, accidents tend to happen. Whether it dropped to the cold, hard floor, or liquid damage. Pronto Arigato offers the iPhone repair you need today! Different on-site options for you will leave you satisfied as customers of Pronto Arigato.
Issues Your Apple iPhone May Encounter
iPhone users will face various types of problems when they update to a new iOS, transfer data from an old iPhone to a new one, jailbreak, or launch any new app on their device. There are different reasons for such iPhone problems to happen, from hardware/software related to even some bugs within the iOS which just needs to be fixed.
Some of the most common issues, and their fixes, are as follows:
iPhone White Screen of Death: A failed upgrade, jailbreak or hardware problem tend to lead to what is known as the iPhone White Screen of Death. Simplest way around this is restarting the device. If that does not do the work, a hard reset (factory reset) to you iPhone may help. However, if even that does not solve it, booting your iPhone in DFU (Device Firmware Upgrade) mode may be the last resort.
Doing either the latter or a hard reset will clear all your settings and any data on the iPhone. 
iPhone Gets Dropped: The most common way that people begins to have issues with their iPhones are when it falls out of a pocket or bag. This usually either leads to the the screen cracking, the glass back being smashed or damaging the case in one way or another. It depends on the kind of surface you drop it on.
The harder the surface, the bigger the bill! Damages could range from something as simple to a scratched screen or some cosmetic scratches on the casing to the common smashed or cracked screens, broken buttons and even the sound not working.
Scratched iPhone Housing: Throughout the years, the iPhone has been upgraded with every new release, but if you insist on not using a phone case, then you have to expect the everyday wear and tear. This could happen even if you simply have your iPhone in your bag or pockets as our daily lives makes it difficult to avoid this problem.
While people tend to believe "Is it possible to simply polish out a scratch", the answer is usually a resounding no; if its on the screen, we at ProntoArigato can only replace it, and if it is on a metal component, then polishing it would only cause more damage as it would heat up the small inner components and the friction would only cause them to heat up and be further damaged.
iPhone Water Damage: Water damages are usually the most painful event you can have for your iPhone. Usually, when such an event occurs, it is beyond repair, especially the older version of the iPhones. The newer versions, however, have been proven to be more water resistant than those, with some users reporting that even a complete submersion of the device causes no long term damage.
However, if water did get in, and something happened to your iPhone that you are not able to troubleshoot yourself, bring your device to us and we will give it a look and try our utmost to repair the iPhone! 
Extreme Temperatures: Leaving your iPhone on the dashboard of your car on a sunny day may cause your iPhone to start to play up, malfunction or stop working altogether. Even if left in a glove box, the temperature a car sustained over a period of time may rise and cause irreparable damage to the iPhone. Even extremely low temperature can cause damage to the screens or sensitive internal components.
Either extreme temperatures may cause significant damage to your iPhone, so it is best to try to avoid being in such a situation to ensure your device continues working at its present condition.
Dust and Dirt Inside the iPhone: Dust and dirt are everywhere in our lives, so small dust particles will easily work their way into the iPhone and cause premature failure of the boards and small electronic components. While a phone case may protect your iPhone from the worst of the day to day dirt that floats into your pockets or bags, this is unavoidable.
Sending it to our expert technicians would ensure we can clean up the phone with little to no damage and we confirm professional quality help so no further damages will be done.
Bent iPhone AKA Bendgate: One of the most common issues you can face, a bent iPhone usually happens after being put in your pocket. As with most other smartphones today, the iPhone is thin and very malleable, made out of metal and glass. Though this makes it very light and user-friendly, the device will also succumb to even a modest pressure on either and can leave the device with a noticeable bend.
While there is no clear method to truly solve this aside from overhauling the whole casing, the best way is to avoid putting it in your pockets and then bending or crouching down as the fabric of your clothes could form the iPhone around your body and causing the bend.
Broken Glass: Most users tend to have a cracked screen for the iPhones, yet it is still workable to a certain extend as although the glass can break, the "digitiser" beneath it will still remain active and respond to your touch. It is the reason why most users choose to avoid changing this.
However, it does make it easier for dust to go into your iPhone, and unfortunately, replacing the glass means replacing the digistiser as well as it is bonded together, and if removing only the glass, it is highly likely it would damage the digitiser due to his fragility. This means a broken glass would ultimately need a full replacement screen, something we can provide and professionally install.
Damaged Memory: Known to have a solid state memory that has a very long lifespan, the iPhone is still prone to failing prematurely due to any of the above issues. Water, extreme temperatures or impact, even bending could cause the memory to break, due to the fragile nature of the device.
Depending on the model and the type of damage it sustained, repairing it is possible by simply replacing the board the memory is attached to, although it is fair to warn the repair is costly and using the utmost care and quality protection for your device would avoid such a cost.
Headphone Jack Breaks: A problem that the latest models have successfully eliminated due to the product now enabling Bluetooth to connect to a pair of wireless headphones, the older models would still face this as the headphone sockets could be damaged due to putting a high pressure on the headphone socket from aggressively inserting the jack or wiggling it about too much.
Fixing it is still a possibility, although it would depend the extent of the damage and how much force has been applied to it.
Fast Battery Drain: There are various ways and methods you can use on your own to replace an iPhone battery. However, it is worth nothing that if you were to get it wrong, it would cause more damage to the iPhone and even weaken your battery life further.
Many users have attempted to do so on their own only to discover they are unable to complete the repair, and when assessed, we discover even further issues to the state of the iPhone and even more issues to fix with. If you need help fixing, sometimes going to professional help may cut the cost from the start as compared to trying to fix it on your own and further damaging your iPhone.
Why Bring Your Apple iPhone to Pronto Arigato?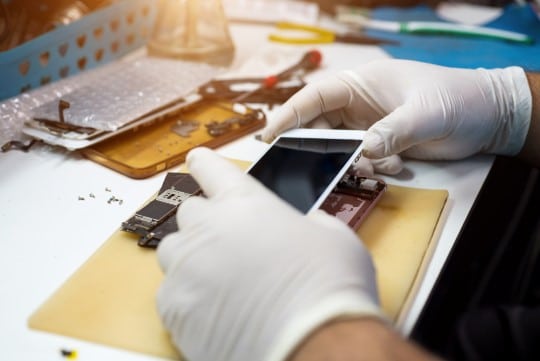 It takes an extremely proficient and detail-oriented tech to execute a proper iPhone Repair.
Tiny screws, delicate bend wires, and costly components make up the internals of the mobile phone. Having somebody who does not understand what they are doing, attempt to work on your own iPhone can render it unworthy.
There are lots of measures that move into fixing your phone the perfect way. Should you skip some steps, you may leave your formerly functioning device completely inoperable, and useless.
Our professional staff and seasoned technicians in Pronto Arigato, are able to provide you with expert on-the-spot diagnosis and quality repair at your convenience, time and place.
We pride ourselves on being a one-stop solution for our customers and their devices. Our services cover a range of devices from Apple devices, laptops, android phones and data recovery, we go above and beyond normal phone repair shops to provide you with excellent quality of service. We have served several celebrities that trusted their device with us too.
Our professional technicians are experts in electronic device repair. Many of our clients, including several celebrities have confidence in us with repairs regarding their Apple iPhones and other devices too.
Experienced Repair Technicians
In Pronto Arigato, our experienced technicians are highly trained and possess the knowledge to diagnose, provide solutions, and examine any type of issue you might have with your Apple iPhone.
From broken glass screens, dead pixels, and battery replacements, we've seen it and fixed it all. We offer an accurate diagnosis, convenient repair, affordable quotation, and service choices that meet your needs for your phone repairs and more. No repair, no charge, no cost.
Whether you are located within a distance and will need to fix your device, or you are our neighbour down the street, we've got you covered. Your broken iPhone could and should be repaired quickly, and affordably. Have a question, a worry or need advice regarding your device, give us a call or send in your question in our live chat. We're here in order to give you a hand.
What are the specific Apple iPhone models that are accepted?
We accept all variety of device models of the Apple iPhone including but not limited to :
iPhone 7
iPhone 7 Plus
iPhone 6
iPhone 6S
iPhone 6S Plus
iPhone XR
iPhone 8
iPhone 8 Plus
iPhone 6 Plus
iPhone 11
iPhone 12 Mini iPhone SE
etc.
Common Device Issues Our Customers Face
Water Damage
Screen Repair
Inaccurate Diagnostics
Issues with Batteries
Product Device is Unresponsive
Cannot Charge
You can book our professional phone technicians through the form or call us. For companies and other organizations (bulk repairs & maintenance): Please call 9299 9626.
What if my Apple Device still has an Apple Limited Warranty or AppleCare+?
Depending on the remaining duration of your warranty, issues on your iPhone and also the severity of the damage on your Apple iPhone. We would be able to advise you whether it is worth to approach the Apple Store to get your iPhone fixed or would it be of better value repairing your device with our professional technicians.
Do contact us or give us a call (92999626) so we can better advise you.
How long will my iPhone repair take?
For common issues, your repairs can take as little as 25 minutes. While more severe problems will require a pickup from your location straight to our main HQ in Paya Lebar Square. For a faster diagnosis, you can come down to our store in Paya Lebar Square, where we will be able to advise if you in detail regarding your iPhone repair requirements.
You can contact us here or call us (92999626).
Are you able to do on-site repairs?
For total convenience & time savings for you when booking an iPhone repair technician from Pronto Arigato for your iPhone issues. Let our technicians from Pronto Arigato come to you instead.
You can book our professional iPhone repair technicians and leave additional remarks through our contact form here or call us (92999626).
Am I able to purchase a new phone from Pronto Arigato?
Do take a look at our Shop Tab to look for the latest limited-time deals on iPhones and other devices.
In need of emergency on-site repair?
— We understand.
Let our technicians from Pronto Arigato come to you instead, our islandwide team of technicians can help save you time and hassle.
You can submit a request here or call us(9299 9626).