We understand how important selecting a laptop for a small business is. Especially if your business relies on the internet and mobility. If it is an online business you might require more than one laptop and it can be hard to choose considering there are tons of options available out there. So we tried and wrote this post to answer your question 'Which laptop is best for small businesses?'.
Before we get into the best laptops for small businesses, let's explore a little bit on how to choose a good laptop. There are a lot of factors you have to consider before choosing the one so we have listed some important factors to look out for on which laptop is best.
Also read: Which Is The Best Tab For Students?
How to choose a laptop for a small business?
Choose according to your budget: Laptops come at different prices, from lowest to highest each has its own features. So before going into the shopping part, set a perfect budget.
Plan your uses and factors: Determine how you are planning to use the laptop. If you have employees, ask them for their choices and preferences. Also, ask them about how they would use it and what kind of laptop would be perfect for them. If you do not have any employees, then no problem. You can determine your uses yourself.
Focus on lifespan and performance: The performance and lifespan of a laptop are very important. Even if you're not choosing a laptop for a small business, you always have to check and confirm your expectations before buying it.
Consider future needs too: Go for the latest and developed model because technology is developed way faster than you can imagine. In just a few years, you will be seeing the next generation of life-changing updates and developments to the laptop you are buying today.
Now that you have seen the specifications and factors to consider before buying a laptop, let's see which laptop is best for business.
Also read: Which laptop is good for students?
Display: 14-inch, 1080p | RAM: 8GB/16GB | CPU: 10th Gen Intel Core i5/Core i7
From providing excellent and long battery life to being one of the best laptops with Intel 10th Gen CPUs, Lenovo Thinkpad can be easily on the top of the list. But it doesn't just stop there. This laptop has always been a favourite and best laptop for business and all for good reasons. It has the best and comfortable keyboard, an amazing display of 1080p or 4K and is lightweight too.
Pros:
Amazing slim design and lightweight
Exotic display
Great performance and battery life
Cons:
Graphics may not be as expected
Display: 13.3-inch, 2560 x 1600 Px | RAM: 8GB/16GB | CPU: Apple M1
Apple always knows how to beat its products and it has been proving it for a long time. Apple Macbook Pro is one of the first products to introduce the new generation Apple M1 and it hasn't disappointed us so far. If you are an Apple lover and looking for the best Mac out there with a beautiful design and impressive performance, this is for you. This Macbook also has a longer battery life than we have ever seen in Apple's MacBook. So it is worth a try.
Pros:
Amazing overall performance
Good battery life
Impressive webcam
Cons:
May not be enough ports for everyone
Display: 14-inch, 1080p | RAM: 16GB | CPU: Intel Core i7-10810U
HP has always been a game-changer in the industry and this laptop proves why. Hp's Elitebook has tons of amazing features such as a convertible from a laptop to tablet, brilliant display, fast and impressive performance along with a fingerprint sensor and so much more. And to add more, it also has a battery life of at least 11 hours after a one time charge. So if you are searching for 'Which laptop is best for business right now and are serious about it, take a look.
Pros:
Brilliant battery life and performance
Beautiful design
Great display
Cons:
Might be expensive for most
Display: 14-inch, 1080p | RAM: 16GB | CPU: Intel Core i7-10610
If you are someone who travels a lot or just always on the mobile so the battery is important, then this is your perfect laptop. Aside from having an epic battery life of at least 16+ hours (even after constant use), this Dell laptop also has more amazing features. From being a 2 in 1 convertible to providing fast and stunning performance, Dell Latitude sure is one of the best laptops for business owners and employees.
Pros:
Best battery life ever
Great performance
Amazing design and features
Cons:
Some might say the display can be more bright
This hopefully helps in solving your confusion about which laptop is best for businesses. If you want to read more tech blogs and tips, Visit pronto arigato.
Pronto Arigato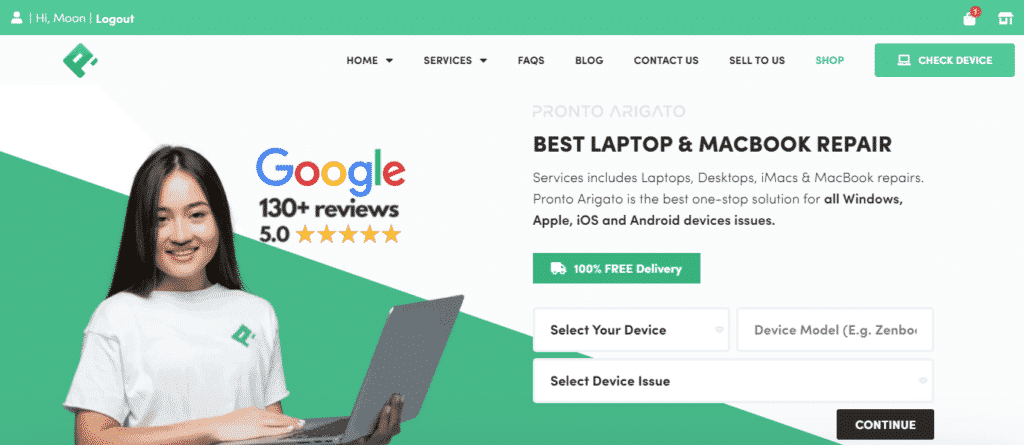 Looking to buy laptops at an affordable price? Want to know where you can repair one? Contact Pronto Arigato now.
Pronto Arigato is a highly rated laptop and Macbook repair agency in Singapore. We provide and assist you with almost all kinds of repair services for laptops, MacBooks, iPhone, iPads, tablets etc. We also sell new and refurbished devices at the best quality and affordable prices.
Take a look at our site Pronto Arigato and let us know how we could help you.